Spiritual life coach and counselor David Schroeder offers group counseling, coaching and retreats.
A Gathering of Men:  A 10-session Men's group, held in the spring and fall. For men who seek a greater understanding and growth of their spiritual and emotional selves. This interactive and experiential group is designed to assist men in finding their truer self and uncovering the barriers of authentic masculine power, love and wisdom, which impacts our work, relationships and life purpose. A Gathering of Men creates space for men to explore through a series of topics and discussions designed to stimulate greater inner awareness of yourself and each other, as well as promoting individual and collective insights and growth.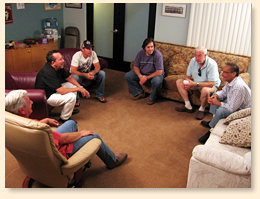 Topics include:
The journey of men: What it means to be a man today  
Breaking ground with the ego/persona, embracing our wounded parts   
The mask I wear: Mask making activity and the telling of the story  
Encounter with your shadow: Acknowledging and accepting our imperfection 
Being in relationship with self and others: Understanding and working with our masculine and feminine energies
Understanding and coping with life transitions 
Remembering who you are: Reunion with your spiritual self
Spring Session: 10 sessions 2nd and 4th Tuesdays beginning Feb 9.  Feb. 9 – June 21, 2016.  Note (June sessions 1st & 3rd Tuesdays)
Time: 6:30 – 8:30pm
Fee: $20.00 per session
Limit: 10 participants
Site: Unity Center for Spiritual Growth 6025 Ada Drive Ada, MI
Group facilitator: David Schroeder, LMSW, CPC
To register and/or for more information contact David @ 616-666-9921 or email: humor311@sbcglobal.net
Currently no retreats are scheduled. Stay tuned for information on future retreats.